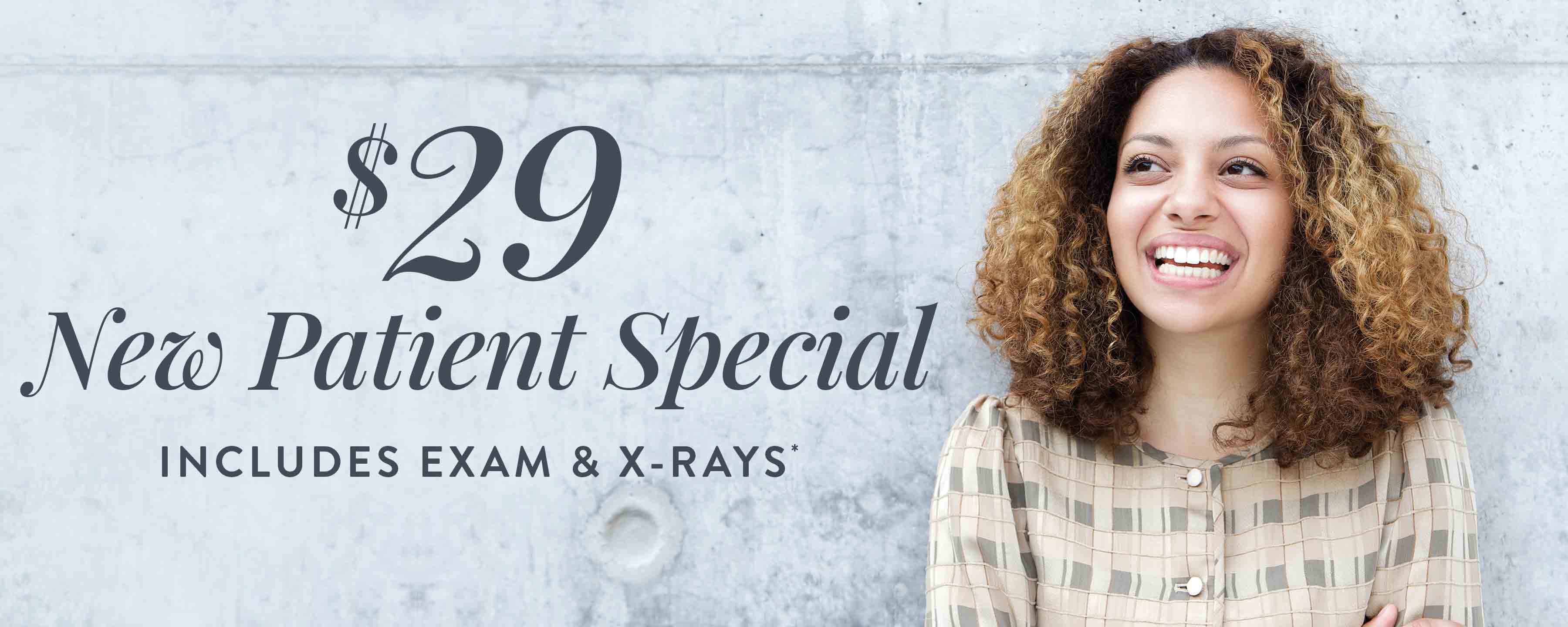 Includes comprehensive exam and X-rays.
New Patient Paperwork:
Online Patient Registration
Office Hours
Monday 7:00 AM – 5:00 PM
Tuesday 7:00 AM – 5:00 PM
Wednesday 7:00 AM – 7:00 PM
Thursday 7:00 AM – 5:00 PM
Friday 8:00 AM – 2:00 PM
CareCredit
CareCredit is a healthcare credit card designed for your health and wellness needs. Pay for the costs of many treatments and procedures through convenient monthly payments.
Our patients leave smiling


Engaging and entertaining

Mark G.



Reena is amazing. I used to suffer from really bad anxiety at the Dentist but since I've been going to Reena my anxiety has subsided and I actually look forward to my visits. She is kind and friendly and really thoughtful. Everyone at the practice is friendly and helpful. Dr. Lee is awesome! She makes getting a tooth filled seem like a walk in the park. I highly recommend this practice and espec…

Zoe M.



I have had a major fear of the dentist of as long as I can remember. Neglecting my teeth was a big mistake, my first visit to Smiles was a emergency visit to have a abscess removed from my month. Over the past couple of years I have spent a fair amount of time in a dentist chair. I can honestly say that if it weren't for Stephanie and Dr.B, I would not continue to improve my oral hygiene. They h…

Matt R.



They are very professional yet make you feel at home and comfortable. Very nice and friendly staff. The Treatment Coordinator, Stephanie, was and has always been incredibly thorough and helpful.

Joseph W.



The dentists and hygienists at Smiles at Fairfax Corner are friendly, compassionate, and honest. Always have a pleasant experience. Highly recommended!

Lisa G.



The staff is extremely friendly and usually no waiting. The doctors and dental techs are awesome.

Maryanne S.



I have been a patient at Smiles of Fairfax for over 10 years. I have a mouthful of dental work! Thank goodness I have Dr. R he is great. The staff is wonderful and very helpful.

Jill C.



We have been going to Smiles for over 15 years. Dr. Rayek is amazing and his hygienists and the rest of the staff are great!

Gina B.



Since I have been going to Smiles, I have lived in three cities in two states. Even when I'm not living locally, I keep going back because of their superb customer service (Stephanie!!!) and expert dental care.

John M.



A+ skills in dentistry and personality. My husband and 4 children have been with them for many years. Dentists, hygienists, financial and administrative staff are all great. Awesome with very little children too. Friendly, accomodating and nurturing.

Dori G.



Been coming here for a few years and they have always done a great job on my teeth. Dr. Rayek is an expert at his craft and has built a wonderful team at his office. Everyone (especially Homerira!) is always super nice and friendly each time I visit. Go here if you want a great smile!

Mark Y.



The office is well organized and friendly. Wait times are minimal. The dental hygienists and dentists are knowledgeable and thorough. . I trust them completely to provide me with excellent care.

Janice L.



Outstanding staff, you will exit smiling as the name suggests!!!!

Dwayne B.



Staff was friendly and went out of their way to explain why they were doing something or recommending something.

Jennifer L.



Great, friendly service!

Treva



Great experience, outstanding staff, and painless. Great use of new dental technology. Would definitely recommend to others looking for a great dental experience.

Jonathan L.



Phenomenal experience!! Informative, kind, courteous, clean and price conscious. Highly recommended!!

MELBY G.



My family and I have been patients here since shortly after they opened. This is the most friendly and caring practice! We love Reena! She has taken the time to get to know me and my family. Reena obviously enjoys what she does, as she always greets us with a smile. The Dr's and staff make the most uncomfortable visits as comfortable as possible. They explain all procedures and insurance coverag…

Lynne F.



Great docs, great staff, everyone is very professional and extremely helpful, especially in wading through insurance red tape

J B.



Wonderful doctors and staff!! Encouraging and caring! Thank you!

Laurel N.