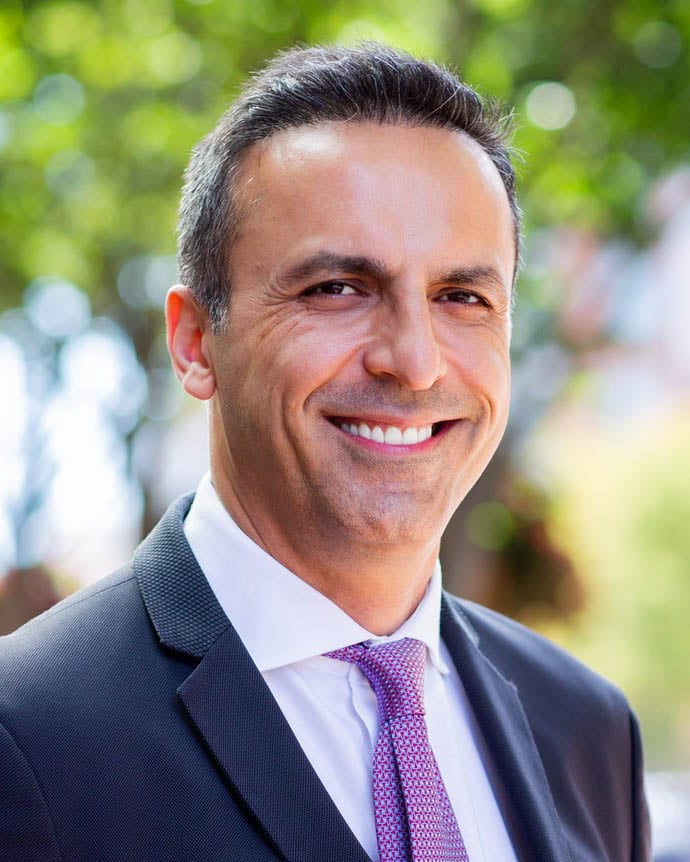 Dr. Riaz Rayek has been an active member of the DC/Northern Virginia dental community for over 20 years. His passion in dentistry is to make his patients look and feel their best. Dr. Rayek works diligently to expand and enhance his knowledge and practice of dentistry through countless hours of continuing education, mentoring, and community outreach.
Dr. Rayek obtained his Bachelors of Science degree from George Mason University. He then went on to receive a Master's degree in Physiology and Biophysics from Georgetown University. Dr. Rayek graduated from the University of Maryland, Baltimore College of Dental Surgery in 2001.
Dr. Rayek's dentistry is on the cutting edge of technology, and he remains an early adaptor of emerging dental technologies and techniques. Dr. Rayek placed his first dental implant in 2002 and to date has placed over 10,000 implants and counting. Dr. Rayek offers PRF and PRP treatment to enhance his surgeries bone growth and esthetic re-contouring.
Dr. Rayek has been an Invisalign® Provider since 2003 and has treated well over 1,000 smiles. He became an Invisalign® Instructor for Dental Care Alliance in 2015, and continues to mentor doctors within the corporation.
In addition to Invisalign, Dr. Rayek has a keen interest in Obstructive Sleep Apnea and currently holds two US patents for OSA appliances.
Recently Dr. Rayek and his wife Dr. Kern have incorporated non-surgical facelifts into their dental practices in Northern Virginia in partnership with Evoke by InMode. Dr Rayek is at the forefront of enhancing patient confidence and achieves the ultimate smile enhancement with jawline, cheek, and chin contouring.
Dental Implants by Dr. Rayek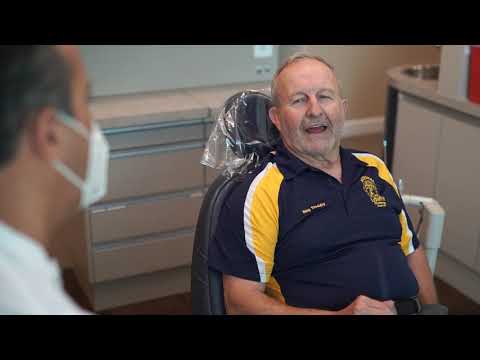 Book Online Now
Complete the form below to book your appointment today.
Office Hours
Monday

7:00 AM – 5:00 PM

Tuesday

7:00 AM – 5:00 PM

Wednesday

7:00 AM – 5:00 PM

Thursday

7:00 AM – 5:00 PM

Friday

8:00 AM – 2:00 PM
CareCredit
CareCredit is a healthcare credit card designed for your health and wellness needs. Pay for the costs of many treatments and procedures through convenient monthly payments.
Our patients leave smiling


Two Implants, Three Root Canals, couple cleanings, cavity fixes and a partridge in a pear tree. Simply cleaning up all the messy Uncle Sam work. I have spent so much time in the chair with these folks. Love the front office and billing staff, the hygienists, and the crew that fixes my grill over and over again. Forever indebted. Forever grateful. You will not find a better establishment / crew.

Alexander A.



Reena is amazing. I used to suffer from really bad anxiety at the Dentist but since I've been going to Reena my anxiety has subsided and I actually look forward to my visits. She is kind and friendly and really thoughtful. Everyone at the practice is friendly and helpful. Dr. Lee is awesome! She makes getting a tooth filled seem like a walk in the park. I highly recommend this practice and e…

Zoe M.



Since I have been going to Smiles, I have lived in three cities in two states. Even when I'm not living locally, I keep going back because of their superb customer service (Stephanie!!!) and expert dental care.

John M.



I have had a major fear of the dentist of as long as I can remember. Neglecting my teeth was a big mistake, my first visit to Smiles was a emergency visit to have a abscess removed from my month. Over the past couple of years I have spent a fair amount of time in a dentist chair. I can honestly say that if it weren't for Stephanie and Dr.B, I would not continue to improve my oral hygiene. Th…

Matt R.



I found Dr. Rayek, and hygienist, Heather, to be top notch in terms of professionalism, thoroughness, and welcoming-nature. I will refer my friends.

Karen O.



I hate going to the dentist, but I always feel better knowing that I am going to Smiles. The staff is very helpful and skillful – especially my hygienist Homeira. Also, Dr. Rayek is a talented professional with a great sense of humor. Plus, the admin staff is always up-front about any cost that may not be covered by insurance. Billing is always accurate. Brush and floss daily and your visit…

Joe F.



I have been a client with this practice for several years. I have always received great care and several of my family members come here as well. If someone asks me about dentist I don't hesitate to recommend.

Deborah L.



Dr. Rayek and his team are truly outstanding and really make you feel welcome. I've had extensive work done, and the service has been amazing. I've had to reach Dr. Rayek on a weekend due to severe pain and his response time and making sure I received proper treatment until I was able to come back to the office, was exceptional. I've referred my family and co-workers!

Khasraw R.



I have gone to Smiles for years and am never disappointed! The doctors and staff are all very professional and go above and beyond to make your experience a great one. I highly recommended Smiles to any one I can!

Brittany C.



Wonderful staff, superior expertise, and a lovely environment.

Lorraine L.



I highly recommend Smiles at Fairfax Corner, the Staff is always friendly and I always receive exceptional service

Courtney S.



I'm a new patient at Smiles and really love the team and environment of the office. Dr. Rayek was professional and informative, and took the time to answer my questions. I admire his commitment to his work and his use of innovative technology in the office. My teeth cleaning was also great– Reena did a thorough job (and I am really particular about cleanings!) She gave me tips on how t…

Katie D.



Dr. Rayek and Reena have been taking care of me for many years and the reason for that is due to the way they make their patients feel, like family! Their friendly and relaxed atmosphere is what everyone wants from a dentist visit and after seeing many dental offices, I couldn't recommend a better option than Smiles at Fairfax Corner. You won't regret it.

A.Y. M.



I was flabbergasted by the treatment and attention to detail that I received from Heather, during my first visit to smiles at Fairfax. Smiles at Fairfax you guys rock!!!

Phil B.



Staff was friendly and went out of their way to explain why they were doing something or recommending something.

Jennifer L.



I have been a patient at Smiles for years and have been so impressed with the quality of care I have received. The staff is very knowledgeable and the atmosphere is welcoming and so friendly! I can't imagine receiving my dental care anywhere else!

Robin T.



Outstanding staff, you will exit smiling as the name suggests!!!!

Dwayne B.



My family and have been going to Smiles for 7 years. Over those 7 years, the constant has been friendly faces and high quality service. I can't recommend Smiles enough to anyone looking for a great dentist. Dr. Riyek and his team at the front desk and back in the chairs are top notch. I'd be remiss, if I didn't mention Fairfax Corner's favorite Reena. What an opportunity to…

Chris M.



Great Staff! Heather was my Hygienist this am and have to say she was great! I really did leave smiling. Highly recommend Dr Rayek, Heather and Smiles at Fairfax Corner!

Brenda G.



My family and I have been patients of Dr. Rayek for over 10 years!

Karen L.



Nice and friendly staff ,specially the hygienist that i work with was very experienced and she did a great job .

Houri B.



My family and I have been patients here since shortly after they opened. This is the most friendly and caring practice! We love Reena! She has taken the time to get to know me and my family. Reena obviously enjoys what she does, as she always greets us with a smile. The Dr's and staff make the most uncomfortable visits as comfortable as possible. They explain all procedures and insurance cov…

Lynne F.



Once you enter the door, you will never want to go to any other dental office. From the moment you enter, the friendliest staff greets you with your name. They never run behind and are always on time. The office is pristine clean, warm and welcoming. They provide coffee and updated magazines, which I appreciate. The hygienists are professional, courteous and caring. And I just love and appreciate…

Caroline G.



So happy I chose Smiles at Fairfax Corner as my dentist. The staff is incredibly friendly, professional, and knowledgble. I did Invisalign invisible braces to fix crowding and crooked teeth and felt comfortable and taken care of throughout the entire process. I recommend Smiles to all of my friends and family!

Harry D.



I'd describe them as the "Cadillac of dentist offices." I've been coming to Dr. Rayek for close to two decades. The staff are pleasant and Dr. Rayek is an excellent dentist. The financial team wants to make sure you get all the bang for your insurance buck. I highly recommend their services.

Calvin C.



We have been patients at Smiles for about ten years. They are the best! Very professional and very helpful. Flexible making appointments; always attentive to our needs. recommended highly. Both my wife an I are happy beneficiaries of Invisiline treatment from Smiles. Great success!

James M.



Been a patient of Dr. Rayek for about 17 years now. Nothing but good things to say about him and this practice. Would highly recommend to family, friends, and all others.

Kevin M.



Great office and wonderful staff!! I highly recommend them

Zhulieta D.



We have been going to Smiles for over 15 years. Dr. Rayek is amazing and his hygienists and the rest of the staff are great!

Gina B.



Great docs, great staff, everyone is very professional and extremely helpful, especially in wading through insurance red tape

J B.



They treat my whole family, including two teens with a knack for cavities. They are fabulous! Very friendly, helpful with fears and concerns and billing questions, they are personable, their hygienists are gently and thorough – (sometimes too thorough !), and of course … ahem! … their dentists are not bad looking either.

Flavia C.



The office is well organized and friendly. Wait times are minimal. The dental hygienists and dentists are knowledgeable and thorough. . I trust them completely to provide me with excellent care.

Janice L.



Phenomenal experience!! Informative, kind, courteous, clean and price conscious. Highly recommended!!

MELBY G.



I had a ton of work done recently and Dr. Barekzi was patient and explained everything at every step. He was very thorough and professional; well done!

Tammy S.



They are very professional yet make you feel at home and comfortable. Very nice and friendly staff. The Treatment Coordinator, Stephanie, was and has always been incredibly thorough and helpful.

Joseph W.



The dentists and hygienists at Smiles at Fairfax Corner are friendly, compassionate, and honest. Always have a pleasant experience. Highly recommended!

Lisa G.



The best dental office ever! Everyone is super friendly and helpful. Customer service is great! I highly recommend coming here!

Carmen F.



Awesome staff who make you feel comfortable! Atmosphere and service are great! Would definitely recommend!!!

Julie H.



Wonderful doctors and staff!! Encouraging and caring! Thank you!

Laurel N.



Great staff and friendly service. Don't mind going to the dentist anymore.

Matt W.



Just found them last year. Wonderful staff, and wonderful experience overall so far!!

Bryan T.



The most amazing dental office ever! The staff are so friendly and helpful. The Hygienists are the gentlest I have ever encountered. The dental assistants are all so pleasant and gentle. And the office staff are ALWAYS smiling!

Patricia W.



Excellent dentist office. All of the dentists and dental hygienists are fantastic. They and knowledgeable and friendly and explain procedures in detail. The staff is also wonderful and has been very flexible and accommodating when I would have to change or cancel my appointments. I never have to wait more than 2 minutes from arrival time and get treated with the utmost care. I would highly recomme…

J D.



Excellent customer service and care. Everyone is a total professional.

Dean G.



Dr. Rayek is the best dentist I have ever had. Very knowledgeable and professional. Office is always clean and state of the art.

Yousuf A.



Smiles at Fairfax Corner has been providing excellent dental care to my family since 2008. Dr. Rayek is is amazing, office staff are great, and all the hygienists are friendly, gentle and provide good oral health guidance (special kudos to Reena and Homeira). Loved the support and services I received during Invisalign treatment!

Sara B.



My wife and I have been with Dr. Rayek for many years and he and his staff always do a very thorough and painless job keeping my teeth in the best shape they have ever been in.

John M.



Dr. Rayek and his staff are top-notch! They are always thorough and take the time to explain my treatment and answer my questions. They also have great senses of humor :-)

Hayley



I have been a patient at Smiles at Fairfax Corner since 2012. The dental care that Dr. Barekzi provides is always excellent. Also, the staff is always cheerful and professional. It is always a pleasant experience coming to Smiles at Fairfax Corner! I highly recommend them.

Jim C.



My wife and I have been with Dr. Radek for many years and he and his staff always do a very thorough and painless job keeping my teeth in the best shape they have ever been in.

John M.



My whole Family has been going to Smiles at Fairfax for years ( my mom, my dad, my brothers, their wife's) I would never go to another dentist. They are so friendly and for years have treated us like family every time we come in. I highly recommend them if you love a great atmosphere and wonderful people!

Katryna C.



A+ skills in dentistry and personality. My husband and 4 children have been with them for many years. Dentists, hygienists, financial and administrative staff are all great. Awesome with very little children too. Friendly, accomodating and nurturing.

Dori G.



As a long time patient with Smiles at Fairfax Corner, I have been completely satisfied with the dental services that have been provided over the years. I highly recommend this dental office. The dentists, hygienists and administrative staff are extremely attentive, helpful, knowledgeable and friendly.

Melanie S.



I have been going to Smiles since they opened and I have never had a bad experience there. Very friendly and helpful staff!!

Jennifer S.



I have been a patient at Smiles of Fairfax for over 10 years. I have a mouthful of dental work! Thank goodness I have Dr. R he is great. The staff is wonderful and very helpful.

Jill C.



The staff is extremely friendly and usually no waiting. The doctors and dental techs are awesome.

Maryanne S.



I had my teeth cleaned by dental assistant Homeira last week. She was quite welcoming, engaged in positive conversation, cleaned the teeth efficiently and without a lot of pain and provided excellent service. A+! Ray

Rhonda C.



Smiles is awesome. So friendly and professional. Exceptional work performed. Always provides an estimate for any additional work.

Suzanne H.



Been coming here for a few years and they have always done a great job on my teeth. Dr. Rayek is an expert at his craft and has built a wonderful team at his office. Everyone (especially Homerira!) is always super nice and friendly each time I visit. Go here if you want a great smile!

Mark Y.



Great experience, outstanding staff, and painless. Great use of new dental technology. Would definitely recommend to others looking for a great dental experience.

Jonathan L.



Smiles has a warm and welcoming staff and they make you feel that they sincerely care about you, because they do! They will make your dentist experience a great one!

Jeremy M.



Great, friendly service!

Treva



Engaging and entertaining

Mark G.



Outstanding service. Over 15 years and counting as a satisfied customer.

James M.



Wonderful! These hygienists are real professionals. I learn new things from these folks everytime I come in and, for the first time ever I actually enjoy coming to the dentist. Special shout to Homeira Ghoncheh — he positive attitude and love for her work make these visits such a fun experience. Keep it up!

- N.