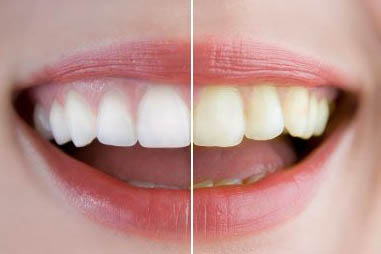 Do your teeth look dull, yellow, or grey? If you're suffering from stains that won't go away no matter how much you brush, call our team at Smiles at Fairfax Corner today.
With our innovative teeth whitening techniques, your teeth can be white, bright, and beautiful in about an hour. Teeth whitening is one of the fastest and most affordable methods of cosmetic dentistry available.
Our team offers several types of teeth whitening to help you enjoy a radiant smile. Our most popular type of teeth whitening can be done right in our office and takes about an hour. We also offer take-home teeth whitening products so you can brighten your teeth before a special occasion.
Both are effective, especially when applied after a teeth cleaning. A professional cleaning removes plaque and food particles that contribute to staining. Call us today at (703) 997-0928 to schedule your appointment.
Why are my Teeth Stained?
Teeth may look solid, but they're actually porous. That allows microscopic pieces of food and beverages to soak into the enamel and affect the color. The color of your teeth is also influenced by the thickness of the enamel and the color of the dentin beneath it. As we age, the enamel tends to become thin, and the dentin tends to darken.
Here are some of the most common reasons for tooth stains:
Drinking dark-colored beverages such as coffee, tea, red wine, and soda
Using tobacco products such as chewing tobacco, cigars, or cigarettes
Taking certain medications such as Tetracycline
Getting older
Poor dental hygiene
One way to help reduce teeth stains is to make sure you drink plenty of water, brush twice a day, and floss at least once a day. Of course, coming to our office for professional teeth cleanings will also remove plaque and stain-causing bacteria.
GLO® Professional Teeth Whitening
Our team at Smiles at Fairfax Corner is pleased to offer GLO® teeth whitening. This dual teeth-whitening procedure is available only at dental offices; you can't purchase it over-the-counter at stores. One of our trained team members will apply the whitening gel to your teeth and then activate the ingredients with a special light. It takes less than an hour, and best of all, it does not cause teeth sensitivity or gum irritation.
Patients can use a GLO take-home kit to further enhance their teeth whitening results and keep their smile bright for months. In a clinical test, 100% of participants got whiter teeth and said the GLO system was easy to use. None of the participants reported any pain or cold sensitivity after using GLO.
Take-Home Teeth Whitening with Opalescence Go®
If you don't have time to whiten your smile while at our office, or if you simply prefer to whiten your teeth in your own home, ask us about Opalescence Go. This is also a professional-strength teeth whitening product that's available only from dentists.
Opalescence Go is made for people on-the-go. It's easy to use, right out of the package. You don't need to have impressions made or wait for custom trays to be created. Instead, you simply open the package of pre-filled trays, pop one in, bite down gently, and then remove the colored outer tray, leaving the inner tray with the gel pressed against your teeth. The whitening ingredients won't drip on to your gums, go down your throat, or cause discomfort like store brands sometimes can.
Opalescence Go comes in different strengths and flavors. Most people prefer to use the formula with 15% concentration of hydrogen peroxide because you only need to war the whitening trays for about 15 minutes a day. The take-home teeth whitening kit contains a 10-day supply of trays.
It's an easy and convenient way to whiten your teeth in less than two weeks.
Whiten Your Teeth Before Your Next Event
Whether you have a job interview, a big meeting, a family celebration or another important event coming up, take the time to stop by our office and get your teeth whitened. You'll love the difference it makes in your smile!
Call our team at Smiles at Fairfax Corner today at (703) 997-0928 to schedule your appointment.