If imperfections in your smile mean it's not ready for a close-up, we can help.
If your teeth are discolored, chipped, and misaligned or have small gaps between them, porcelain veneers may be the solution you have been looking for. Veneers alter the appearance of generally healthy teeth that need help in restoring their shape, color, size, or position.
Our dentist is trained to examine your smile and help you decide if this cosmetic treatment is right for you.
What is a Porcelain Veneer?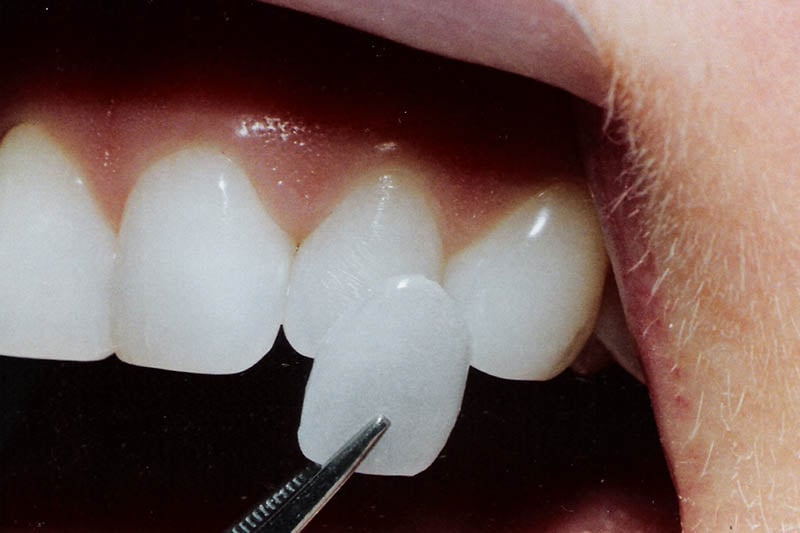 Porcelain veneers replace your tooth enamel with a thin layer of porcelain, covering the tooth's flaws. Porcelain veneers are most commonly affixed on the teeth of the upper jaw — the ones usually front and center when you smile.
Veneers can repair and beautify many of your aesthetic concerns:
Color: Years of consuming coffee, tea, red wine, plus smoking, certain medications, and aging can cause teeth to become drab and yellow. The color of your teeth can be revived by veneers, giving you a more youthful appearance. And if you've got a tooth stubborn to whitening treatments, a lone veneer can fix this issue as well.
Size and shape: Veneers can go a long way to enhance a smile suffering with teeth that are chipped or have been shortened by tooth grinding, known as bruxism. The shape of your teeth (too big, square, round or small) also can be corrected by veneers.
Alignment and spacing: You can avoid reliving your teenage years in braces by choosing veneers to fix the small gaps you have between your teeth and realign your bite.
If you choose veneers, our dentist will begin the process by making a mold of your teeth to ensure a perfect fit that looks and feels natural. As part of the treatment, the dentist may need to remove a small layer of your tooth enamel – less than 1 mm – before applying the veneer. Once attached, it will be as long-lasting as a filling or crown and shouldn't need replacement unless there is unexpected trauma.
How Is a Veneer Different from a Crown?
By changing the color, shape, size and overall appearance of your teeth, both veneers and crowns provide a positive effect on your dental health and self-esteem. The main difference between the two is a veneer covers only the face of your tooth, where a crown covers the entire tooth.
In most cases, veneers are more effective on healthy teeth that have few imperfections. Crowns work better on teeth that have been damaged by decay, trauma, bruxism or age. Crowns also are good solutions for problem molars because of the strong biting force those teeth exert.
How Long Do Veneers Last?
Your veneers should be a permanent solution to your smile's flaws, but their overall durability can depend on the brand, your lifestyle, and attentiveness to dental hygiene. Treat veneers as you would your natural teeth — daily brushing, flossing and regular dental visits — and your new smile should last for the rest of your life.
What Are Lumineers®?
A popular brand of veneers called Lumineers® are translucent, super-thin, and very durable — lasting more than 20 years. And because of their wafer-thinness, they usually don't require any loss of your tooth enamel. Application of Lumineers is pain-free; and look natural and feel comfortable.
How Do I Care For Veneers?
Thorough dental hygiene will go a long way to keeping your veneers healthy and long- lasting, we do advise you treat them with a soft touch. For example, don't open packages or tear off price tags with your teeth. Also try to avoid especially hard foods, such as candy apples. And if you have a history of grinding or clenching your teeth, we recommend you purchase a custom-fit mouth guard to protect your veneers. Our dentist in Fairfax will thoroughly review dental maintenance when your veneers are in place.
Schedule a Consultation for Veneers in Fairfax Today
Still have concerns or questions? Our helpful staff in Fairfax is ready with answers regarding veneers or any other dental treatment. Make an appointment today at (703) 997-0928 to begin your journey to a brilliant smile.