Do you wish you had a straight, beautiful smile, but don't want to wear braces? Invisalign® clear aligners may be the perfect solution for you.
Invisalign treatment is often called "invisible braces" or "clear braces" because it's almost impossible to see the aligners. Unlike braces, which are bonded directly to your teeth, Invisalign uses clear, removable aligners that slip over your teeth and gently move them into proper alignment.
Best of all, people won't even notice you're wearing the aligners. It's a convenient, discreet way to straighten your teeth so you can have a smile that you're proud to show off.
Dr. Riaz Rayek is a Premier Invisalign Provider in Fairfax Corner. He has helped hundreds of people just like you have a beautiful, confident smile. Call us today at (703) 997-0928 to schedule your complimentary Invisalign consultation.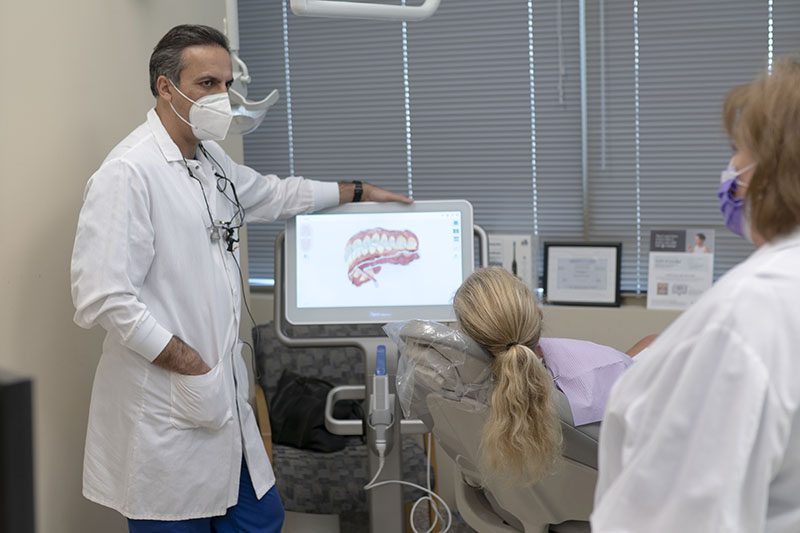 How Invisalign Treatment Works
It's easy to get started with Invisalign treatment. When you come in for your first appointment, we'll use an advanced iTero scanner to perform a quick scan of your mouth for the Invisalign impressions. Then one of our Invisalign-certified dentists will design a customized treatment plan for you. You'll be able to view the digital smile makeover that shows you how your teeth will move from their current position into their new alignment.
We'll send the information to our preferred dental lab where your custom aligners will be created. Invisalign uses a series of progressive aligners. Every two to three weeks, you insert a new set of aligners designed to move your teeth closer to their final position. The clear plastic trays gradually adjust the alignment of your teeth until your smile is right where you need it to be.
For the best results, we recommend you wear the aligners except for while eating or brushing your teeth. You should also remove the aligners if you smoke.
What are the Benefits of Invisalign?
The greatest benefit of Invisalign treatment is that it can correct a variety of problems. Whether your teeth are too crowded or spaced too far apart, we can use Invisalign aligners to straighten your teeth and fix your smile. Invisalign can also fix overbites, underbites, and crossbites.
Other benefits of Invisalign clear braces include:
People notice your smile, not the aligners.
The aligners are comfortable to wear.
They don't have any metal brackets or wires, so they don't irritate the gums or cheeks like traditional braces can.
You remove them to eat, so there are no food restrictions like there are with braces.
You also remove them to brush and floss your teeth, so it's easy to keep your teeth clean.
You can remove them to play instruments or if you need to insert a sports mouthguard.
There are typically fewer dental appointments with Invisalign than you have with traditional braces.
What is Invisalign® Teen?
Our Invisalign dentists in Fairfax are also trained in Invisalign Teen. Inviaslign Teen aligners work in a similar way, gently moving teeth into alignment. However, the aligners include a color-changing element that lets our dentists know if the teenager has been wearing them for the recommend amount of time each day. The aligners only work when they are in the mouth, so it's important for teenagers to be in compliance.
How Much Does Invisalign Cost in Fairfax?
It's a popular question: How much does Invisalign treatment cost? In general, Invisalign costs about the same amount as traditional braces. Factors that influence the cost include the complexity of the case, the length of treatment, and the number of aligners you need to straighten your teeth.
Dental insurance policies often include orthodontic benefits, which may help defray the cost of treatment. Insurance coverage varies from policy to policy, so we recommend you check with your insurance carrier to see if Invisalign is covered.
A flexible spending account (FSA) may also help minimize your costs by allowing you to put $2,550 of pre-tax dollars toward the cost of your teeth-straightening treatment.
We also offer flexible, affordable monthly payment options. Ask our team for details.
Call Today to Schedule an Invisalign Consultation
If you have ever felt self-conscious about your smile, now's the time to call us for a free Invisalign consultation. We understand that you want to have the self-confidence that comes from being able to smile big and laugh loud without feeling embarrassed about your teeth. Our team of Invisalign providers is ready to help. Call us today at (703) 997-0928. You'll leave your appointment knowing how Invisalign could help you, how long your treatment will take, and how you can fit the cost into your monthly budget.