When you are 7-years-old, a gap-toothed smile is cute. When you are an adult, a hole in your smile is the opposite. Thanks to advances in dentistry, you no longer need to live with missing teeth or the poor self-esteem that accompanies their loss.
Our dentist in Fairfax is trained in the latest innovations in dental implants. Dental implants are a permanent solution to replace lost teeth and restore your smile, allowing you to eat and laugh with comfort for decades.
Dental Implants by Dr. Rayek
What are Dental Implants?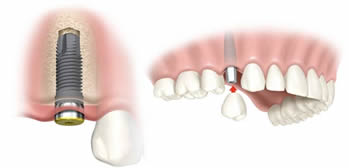 Dental implants are a natural-looking, long-lasting solution for missing teeth. They restore function to your mouth and make eating and speaking easier and more pleasurable.
Implants are simply small titanium posts that are surgically put into your jawbone where teeth are missing. The post takes the place of the tooth root and can be topped with a crown, bridge or denture to replace one or several missing teeth. The implant will fuse with bone, offering stability to the artificial tooth or teeth, and giving you the freedom to resume activities including biting, chewing and speaking clearly.
Whether it's one tooth, several teeth, or even implant-supported dentures, the procedure will give you the ability to hold your head high and smile wide.
Why Should I Get a Dental Implant?
An implant is a revitalizing procedure that provides you with a permanent artificial tooth or teeth that function as your natural ones.
Implants don't affect your remaining adjacent teeth and are designed to tolerate the normal chewing and wear and tear expected by your natural teeth. With proper care, dental implants usually last a lifetime.
Dental implants can also support a full row of replacement teeth. Traditional, removable dentures can fit poorly, slip or fall out. You also may slur words or mumble as you talk while wearing them. An implant-supported denture gives you teeth 24-hours-a-day without the need for messy denture adhesive. A restored smile also will restore your self-image and build your confidence.
Other Benefits of Dental Implants
The reasons why you should consider getting dental implants to replace missing teeth go beyond the restoration of your smile – but that's a good start.
Other benefits of this procedure include:
Implants look and act like natural teeth – They are strong and stable and your friends and family probably will not even notice they are not your original teeth.
Implants last a long time – Dental bridges are only built to last five to seven years whereas implants are built to ask a lifetime if they are cared for properly.
No slippage – Because the implants are imbedded in the jawbone, they provide a stable anchor for the crown, bridge, or denture that is attached.
Enjoy life – No more hiding from the camera or putting your hand over your mouth as you speak or chew. Your new, natural-looking dental implants will allow you join in the fun, smile wide for photos, and go for the full-belly laugh rather than the tight-lipped chuckle.
Eat what you want – You can eat your favorite foods again, including steak. No more soft food days!
Preserve bone – After you lose a tooth, the jawbone in that area begins to deteriorate. The dental implant actually stimulate bone growth.
Retain the shape of your face – The jawbone deterioration can affect the shape of your face, causing it to sag or appear sunken. Implants help retain your handsome or beautiful reflection by keeping the facial proportions intact and reducing premature wrinkling.
No cavities – Implants, crowns, and dentures won't be compromised by tooth decay. You will, however, need to brush and floss daily and see your dentist regularly to maintain the perfect smile.
Keep teeth in your mouth — Dental implants keep your replacement teeth in your mouth and not in a glass on the bathroom counter. Enough said.
What to Expect during Implant Surgery
After the prerequisite X-rays and general exam, your mouth will be readied for implants. If the dental implant will be taking the place of a damaged tooth, then that tooth will be extracted. Our dentist will also determine whether there is enough natural bone to support a dental implant. If the amount of bone is insufficient, then a bone graft will be performed.
A bone graft likely sounds scarier than it is. During a bone graft for a single tooth, sterile bone granules that look like sand are packed into a tooth socket following an extraction. It is covered with collagen and a few stitches will close the socket. Over the next few weeks, your own bone will fill in this area, creating a proper bed for the implant.
Our implant dentist in Fairfax will place the dental implant into the jawbone, where is will integrate with the bone over several weeks. During this time, our dentist can place a temporary artificial tooth or teeth in the area. Once the implant is fully integrated, the dentist will place a color-matched, natural-looking crown, bridge or denture on top.
How do I Care for Dental Implants?
The care of dental implants is just like the care given to your natural teeth daily. They can be brushed, flossed daily and should be subject to twice-annual checks by your dentist.
You should also avoid bad and damaging habits, such as chewing hard items such as ice or hard candy which could damage the crowns as well as your natural teeth.
Also, this gives you yet another opportunity to master a thorough and thoughtful daily hygiene routine that should ensure a long life for your dental implants and remaining natural teeth.
How Much Do Dental Implants Cost?
Our team at Smiles at Fairfax Corner will help you determine an efficient way to fit this restorative procedure into your budget. Every patient has to weigh all options before agreeing to any surgical procedure, including investing in a long- term fix to a broken smile.
We can discuss several available payment options that will give you peace of mind as you journey toward a new, improved smile and quality of life.
Call Today for a Dental Implant Consultation
Call our caring staff at Smiles at Fairfax Corner at (703) 997-0928 to make an appointment to determine if the dental implant procedure is the right treatment to replace your missing tooth or teeth. We'll answer all of your questions, discuss the timeline so you know when your new tooth or teeth would be in place, and help you fit the cost into your family budget.
We look forward to helping you be able to eat, speak, and laugh again with self-confidence.