Posted under:
General
Posted on: August 31, 2022
Time to Take Gum Care Seriously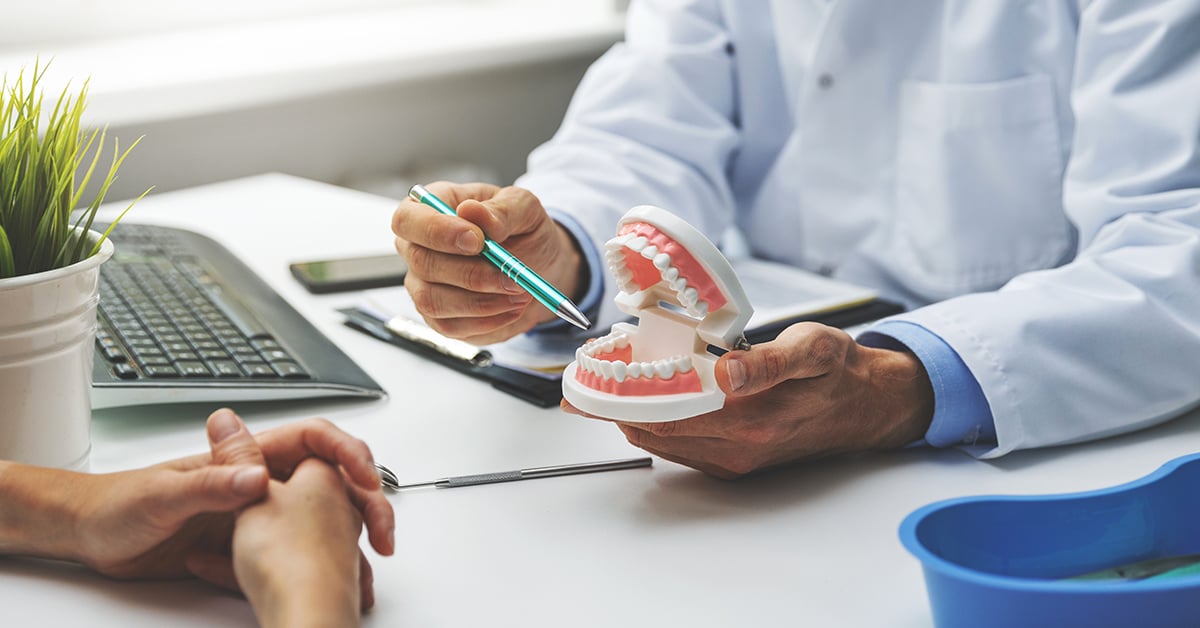 Now is the time to take the care of your gums seriously. In fact, that is what the whole month of September is about. That is because September is known as National Gum Care Month. During the month of September, experts spread the word about how to care for your gums correctly to prevent serious issues, such as gum disease.
Preventing gum disease is very important. In fact, research shows that adults over the age of 35 have gum disease to thank for the majority of their tooth loss. While it affects adults the most, gum disease is an issue for people of any age. Thus, it is never too early to learn about the benefits of proper gum care.
For the sake of National Gum Care Month, let's take a little time to talk about how you can keep your gums healthy. It is also a good idea to learn some of the warning signs of gum disease. After all, the sooner you get treatment for gum disease, the easier it is to treat. If you want to know more about the treatment of gum disease, reach out to your Fairfax Corner dentist.
Gum Disease and Your Health
Firstly, it is crucial for you to understand that gum disease affects more than the health of your mouth. In fact, gum disease can cause issues for your general health as well. Some common health problems that can develop include heart disease and stroke. Thus, it is not only the health of your mouth on the line when it comes to gum disease but also your overall health.
How to Care for Your Gums Properly
Next, let's take a few minutes to talk about how you can properly care for your gums. If you are worried about a bunch of special rules, don't be! In fact, you are probably already doing many of the things that can make your gums healthy. Your real goal is to come up with a great oral health routine to stick to. After all, the key to healthy gums starts at home.
It All Starts With Brushing
Since you were a kid, your parents have likely told you how important it is to brush your teeth regularly. As it turns out, they were right! Brushing your teeth is good for not only your teeth but also your gums. You need to make sure that you are brushing at least twice a day. If possible, you should brush your teeth after every meal.
Now, you do have to consider more than just how often you brush your teeth. You also need to think about the toothbrush you are using. You want to pick out a toothbrush that meets certain criteria.
For example, get a toothbrush that has soft bristles. These are less likely to harm your gums and the enamel on your teeth. You should pick a toothbrush that has bristles of varying lengths too. This makes it possible to clean your teeth and stimulate your gums at the same time.
In addition, it is essential that you change your toothbrush about every three months. As you use your toothbrush, the bristles start to stiffen up and become hard, which can hurt your gums. Likewise, bacteria can start to build up on your toothbrush as well.
Visiting Your Dentist and Flossing Are Essential
Do you want to get the most out of your daily dental routine? Be sure to floss each and every day. When you floss your teeth, you are removing food particles from between them. Since bacteria feeds on these food particles, removing them is very important. On top of that, flossing stimulates your gums and promotes blood flow.
It is also vital to remember that there is only so much that you can do at home. When it comes to cleaning your teeth and gums, no one can do it like your Fairfax Corner dentist. Thus, you have to remember to set up appointments to go in for cleanings. During these appointments, your dentist will check your teeth and gums for warning signs.
Spotting the Warning Signs of Gum Disease
No matter how well you take care of your gums, there is still a chance that you can develop gum disease. In fact, some people are simply more prone to it than others. Dentists say that it has to do with genetics. Regardless of what causes it, knowing the warning signs to look out for is helpful. Below is some information about the three stages of gum disease and the warning signs that come with each.
Gingivitis
The first stage of gum disease is gingivitis. You have probably heard of this term before. In fact, many toothpaste and mouthwash commercials say that their products can prevent "the gum disease gingivitis." The warning signs of gingivitis are fairly easy to spot. Usually, your gums will be red, and you could notice some bleeding when brushing or flossing your teeth.
Periodontitis
The second stage of gum disease is a little less talked about but is just as important to understand. Known as periodontitis, the biggest difference between it and stage one is that little pockets start to form within your gums. Food and bacteria can become trapped in these pockets, making the gums even harder to clean.
The warning signs for gingivitis still apply to periodontitis. The biggest difference is that you are likely to start feeling pain when brushing or flossing. Likewise, your gums might also be a bit more swollen or inflamed than they were during stage one.
Advanced Periodontitis
If left untreated, periodontitis can eventually progress into advanced periodontitis. Unfortunately, this is when gum disease is at its worst. Typically, the warning signs of this type of gum disease are shifting and losing teeth. This happens because it starts to destroy the foundation of your teeth. Once it progresses to this level, your best option for treatment is oral surgery.
We Can Help You Overcome Gum Disease
Are you looking for treatment for gum disease? If so, it is time to visit our Fairfax Corner dental office. We provide dental services that your whole family can count on. Of course, we offer more than just gum disease treatment. Reach out to us now for assistance with setting up a consultation, and let us help you determine the treatment that is best for you.