Posted under:
General
Posted on: November 24, 2020
Invisalign: Frequently Asked Questions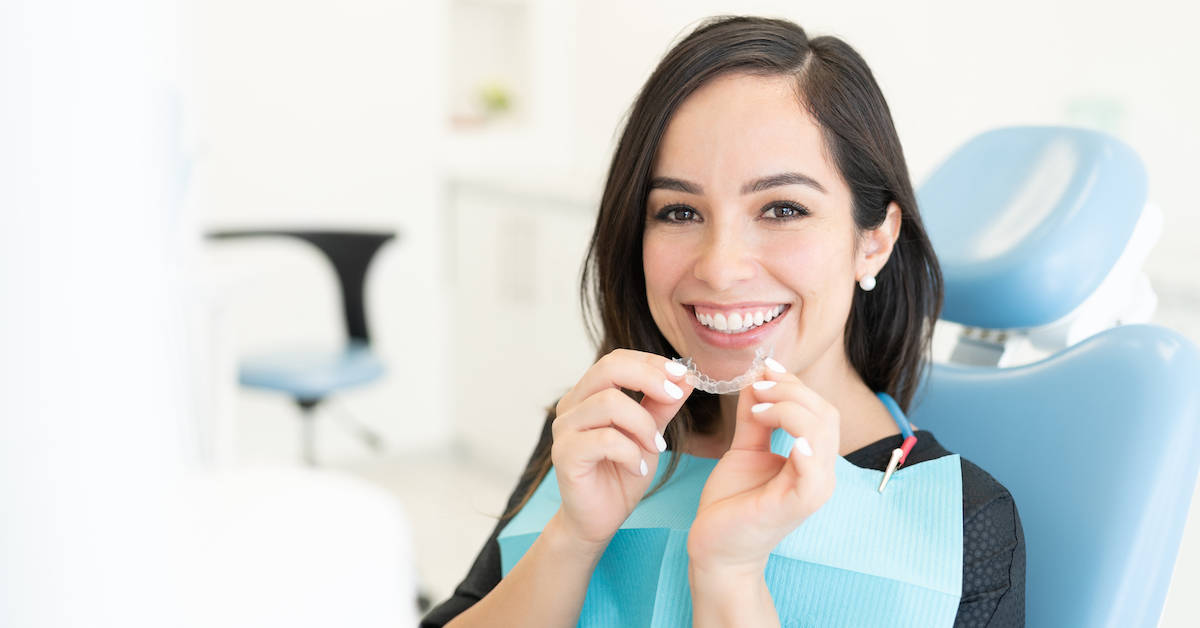 Many of our dental patients ask us about solutions for crooked or misaligned teeth. We can sometimes recommend Invisalign as a way to deal with these issues without metal braces and the changes to your appearance that they can sometimes cause. By working with us, you and your family can find the perfect solution for crooked teeth and many other issues that can affect your dental health and your appearance.
Is Invisalign Used to Correct All Types of Misalignments?
Invisalign is almost invisible when being worn. These clear plastic aligners fit over your own teeth snugly, which allows them to provide consistent pressure that will slowly move your teeth back into alignment over time. The Invisalign system for correcting misaligned teeth consists of a number of graduated aligners that are worn in sequence.
The clear plastic used for Invisalign is called SmartTrack. It is specifically designed to provide flexible support while reducing the impact of orthodontic processes on your appearance. Since each aligner is to be worn for about two weeks, it is important that the plastic used is both durable and transparent to achieve the best results.
Is Invisalign Right for You?
Some patients in our office may not be good candidates for Invisalign. Some of the factors that could play a role in ruling out Invisalign include the following:
If your teeth are severely misaligned, Invisalign may not be the best choice for you. The system is designed specifically to treat mild to moderate cases of misalignment. Teeth that are too crooked will not usually respond well to the gradual realignment provided by Invisalign systems.
If you are not able to wear the Invisalign aligners for at least 20 hours each day, you will not achieve the results you want from your treatment. For people with schedules that do not allow them to wear the aligners for that amount of time, Invisalign is not the best solution for crooked teeth.
Younger teenagers and children may experience significant tooth and jaw growth during these early years. If changes occur to the teeth, the Invisalign aligners will not fit properly and will not work to adjust the position of teeth. This could lead to added expenses for you and your family.
Finally, cost may sometimes be a consideration when planning orthodontic work. In most cases, traditional braces are somewhat less expensive than Invisalign. If you would prefer Invisalign treatment, we may be able to provide you with payment options that will make this more affordable for you and your family.
What Do You Need to Know About Getting Invisalign?
During your first consultation with our Invisalign team, we will look at the current condition of your teeth and will provide you with our recommendations on treating crooked teeth effectively. If Invisalign is a good solution for you, we will work with you to determine the course of your treatment. This will require taking molds of your teeth to create the Invisalign trays that will reshape the look and feel of your mouth.
When the aligners are received in our office, we will give you a call to come in and be fitted for Invisalign. Our dentists will make sure that your aligners fit properly and that you understand how to use them correctly. In most cases, you will need to come in to be checked about two weeks after you begin using Invisalign. This will ensure that you are making the expected progress toward more beautiful and straighter teeth.
You will begin with the first aligner in your series. Most of our patients move to the next aligner in about two weeks. Eventually, you will go through each aligner in sequence to move your teeth back into the right spots and to achieve the straight and even smile you've always wanted.
Using the aligners in the proper order is essential to produce the desired results without undue discomfort. Invisalign is intended to be as comfortable and unobtrusive as possible. Tracking your aligners and switching to the next one when it is time will help you manage your treatment in the most efficient and effective way.
How Will Invisalign Affect My Daily Activities?
It is important not to wear your aligners when eating or drinking. The foods you eat and the beverages you drink could stain the plastic, which could make these orthodontic appliances more visible to others during the time you wear the aligner. Avoiding this is essential to promote the invisible aspect of Invisalign.
You will be able to speak normally and to carry out all your ordinary activities after just a few hours or days of adjusting to the way Invisalign feels. You will also need to sleep in your aligners each night. This may require a little more adjustment on your part. The results, however, will make up for this temporary inconvenience.
What Happens When I'm Done with the Invisalign Process?
Some of our patients need to wear a retainer for a brief period after their treatment with Invisalign is over. This is intended to prevent teeth from reverting to their previously crooked positions and reducing your ability to smile confidently. If you need a retainer for occasional use or on a temporary basis, we will work with you to provide the right follow-up treatment for your needs. In most cases, however, you can go on with your life with a brighter smile after your Invisalign treatment has been completed.
How Can Our Local Dentists Help You With Invisalign?
At our dental office, we provide comprehensive services for patients in our area. If you need practical help with dental issues like cavities, broken teeth or misalignments in your smile, give us a call today to schedule an appointment with our team. Our dentists are qualified to provide you with the best and most effective solutions for your dental care needs. We offer caring and compassionate care options that will help you and your family get the right treatments for your current and future needs.