How Many Veneers Do I Need?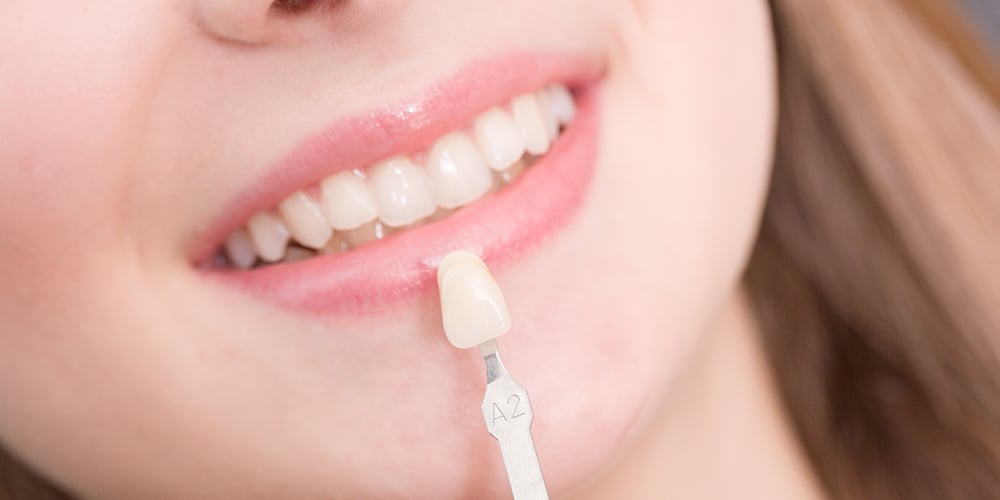 There comes a point in probably everyone's life when you're unhappy with your smile— whether that means being unhappy with your stained teeth, unhappy about your crooked teeth, or unhappy about a whole host of other cosmetic issues.
For those who want to fix crooked, misaligned, gapped, cracked, broken, or chipped teeth, porcelain veneers may be the best option. But just how many veneers will you need to fix your smile? Join us as we explore this topic.
---
How will veneers fix my smile?
Porcelain veneers can fix so many different dental problems. Just how do veneers fix problem teeth?
A cosmetic dentist can use porcelain veneers to change the size, shape, length, or width of your teeth.
A porcelain veneer is a thin shell-like covering that gets bonded onto the front of a tooth. It is made to look natural and brighten your smile.
The natural tooth isn't altered at all. If it is altered, it might be minimally altered so your smile can become fixed and brightened (source: http://www.yourdentistryguide.com/veneers/).
Veneers offer a quick solution (as opposed to longer-term orthodontic braces) to fixing some orthodontic issues (source: http://www.webmd.com/oral-health/guide/veneers).
The process of getting veneers may take one or two dental appointments with your cosmetic dentist.
Just keep in mind there are limitations of porcelain veneers. Also, porcelain veneers are not right for everyone. You can learn more about the pros and cons of porcelain veneers on our webpage here.
So now that you understand a little bit more about how veneers can fix someone's smile, how many veneers do you need? Is there a specific number of veneers that cosmetic dentists recommend? Let's find the answer.
---
So how many veneers do I need?
The first thing to do is to look in the mirror and smile. Then count how many teeth show when you smile naturally. Let's say that number is 4— 4 of your front top teeth are crooked. In this situation, your cosmetic dentist may recommend 4 veneers since they show when you smile.
This is a good starting point that some cosmetic dentists use when evaluating a patient's smile. For instance, some patients have a wider smile in which more dental veneers may be needed to restore a smile. On the other hand, a patient may have a narrow smile where only a few teeth show.
So in order to answer the question ("How many veneers do I need?"), ask yourself the following questions:
How much whiter do you wish your smile could be?
How many teeth show when you smile naturally?
Do you want to change anything else about your teeth in addition to the color? Do you want to change the shape, width, size, or length of your teeth?
All in all, a good cosmetic dentist will listen to you about your smile concerns and will then create a treatment plan to revitalize your smile. Then, once you have veneers, you can enjoy all of the advantages that veneers allow.
---
Advantages of dental veneers
With veneers, you'll be happy and more confident in your brand new smile.
You won't feel self-conscious of your smile anymore.
You'll experience a boost of self esteem.
Your cosmetic dental problems will get fixed once and for all.
The veneers are made of porcelain, which means it will be a long-lasting cosmetic dentistry solution. In fact, porcelain veneers may last between 10-20 years, depending on your at-home oral care regime.
The porcelain veneers material is stain resistant, which means you can continue eating and drinking your favorite foods and beverages.
A good cosmetic dentist will customize your veneers to look natural and flawless.
Now that you know the advantages and benefits of dental veneers, are you ready to revitalize your smile?
---
Cosmetic dentistry at Smiles at Fairfax Corner in Fairfax, VA
If you are interested in getting a cosmetic dentistry evaluation for veneers, and if you live in the Fairfax, VA area, call Smiles at Fairfax Corner. Our contact information can be found on the following page: https://www.smilesatfairfaxcorner.com/contact-us/
In the meantime, you can check out our porcelain veneers page here. We look forward to fixing your smile so you can feel confident again.