Posted under:
General
Posted on: October 2, 2022
Celebrate Dental Hygiene Month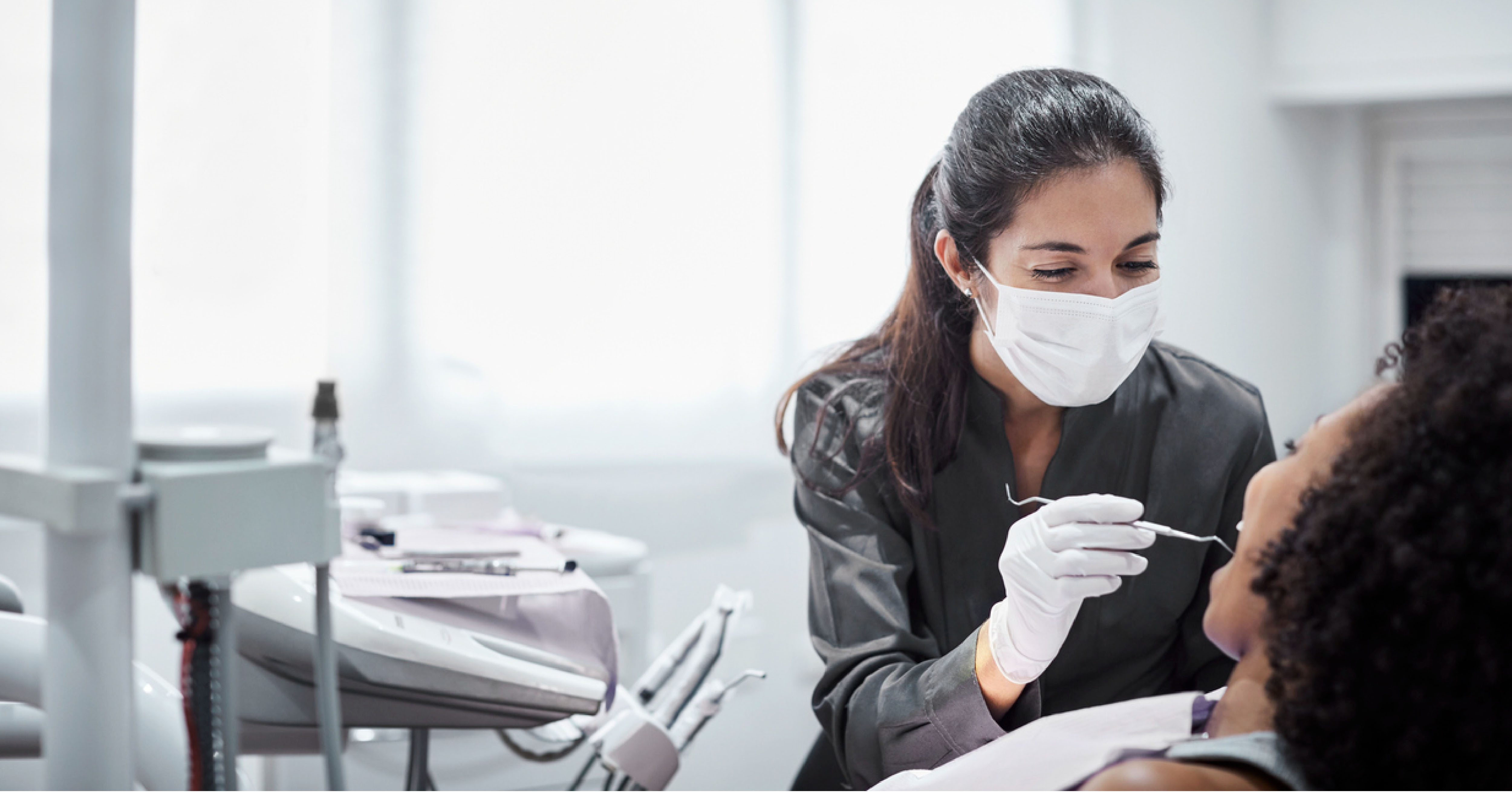 Dental Hygiene Month is celebrated every October. While you're celebrating autumn, cool weather, and lots of candy, you may want to think about celebrating great dental health. Dental hygiene consists of the habits that you perform every day to maintain healthy teeth and gums. In addition to this, good dental hygiene habits are a great way to ensure that your overall physical health stays intact. As a part of Dental Hygiene Month, we're also celebrating the people that play a part in helping you achieve excellent dental hygiene.
Celebrate Dental Hygiene Month in Fairfax Corner by making your dental hygiene a priority and booking an appointment today!
Dental Hygienists in Fairfax Corner
One of our favorite parts of Dental Hygiene Month is getting to celebrate our dental hygienists! Dental hygienists are licensed professionals who are dedicated to keeping your smile healthy. While they perform many different tasks, their main focus is on treating and preventing common diseases that occur in the teeth, mouth and gums. Dental hygienists complete specialized education and training that assist them in delivering hands-on treatments to patients. They also commonly fill the roles of educators, researchers and administrators in their offices.
As a patient, you spend a lot of time with your dental hygienist. Your hygienist will take your medical history so that any medical problems you have are taken into account when it comes to designing your dental health plan. He or she will interpret any x-rays taken, clean your teeth and also provide recommendations on preventative treatments that might be useful for you. A dental hygienist is a great resource for getting advice on how to customize your dental health routine at home, as well as on how to eat a dental health friendly diet.
In the United States alone, there are over 200,000 dental hygienists. These dental healthcare professionals are an imperative part of any dentist's team. They serve a valuable role by being a bridge between a patient and his or her dentist.
The Importance of Dental Hygiene
Good dental hygiene is an important part of living a healthy lifestyle. Having good dental habits keeps your smile healthy. This boosts your self-confidence, as well as your overall physical health. A well-established good dental hygiene routine will reduce your risk of developing tooth decay, gum disease and tooth loss. Leaving these conditions untreated can have a serious impact on your dental and physical health. They can even cause health conditions like stroke, diabetes and heart disease.
Celebrate Dental Hygiene Month with Great Oral Health Habits
To celebrate Dental Hygiene Month in Fairfax Corner, practice the four daily routines for healthy smiles:
Brush, Floss, Rinse, and Chew!
Brush
The first thing you can do to keep your smile healthy is to brush your teeth twice a day. Each time you brush, you should do so for a minimum of two minutes. Brushing your teeth with proper technique allows you to remove plaque and food particles that could cause tooth decay, cavities and gum disease. To effectively brush your teeth, follow these five steps:
The 5 Steps for Effective Brushing
1. Position your toothbrush at a 45-degree angle toward the gums
2. Move the toothbrush in short strokes gently back and forth
3. Brush the other and top surfaces of your teeth
4. Adjust your toothbrush to a vertical position and brush the inner surfaces
5. Finish up by brushing your tongue to get rid of bacteria
It's more important that you brush your teeth consistently and evenly than with intensity. Brushing harder won't give you the same results. You also need to remember to change your toothbrush a minimum of once every three months. You should also replace your toothbrush after you've been sick.
Floss
A good dental hygiene routine isn't complete without the addition of flossing. This simple action should be performed once a day. It gets rid of small food particles and plaque buildup that become stuck in between the teeth. Eliminating these helps to lower the risk of tooth decay and gum disease.
Rinse
Another tool you can utilize after you have brushed and flossed your teeth is mouthwash. Rinsing out your mouth with an antibacterial mouthwash rids the mouth of any food and bacteria that have been left behind after brushing and flossing. It also assists in preventing gum disease and keeps your breath smelling fresh! While mouthwash is a great addition to your dental care routine, it's important that you know that it can't be used as a replacement for brushing and flossing.
Chew
Chewing sugar-free gum after you consume foods and beverages is another way to lower your chances of developing tooth decay and other issues caused by bacteria buildup. Whenever you eat or drink something, the sugars in that food or drink combine with any built-up plaque on the teeth to create an acid that attacks the enamel of your teeth. Tooth enamel is one of the hardest materials in your body, however, it can be damaged by these acid attacks. Once enamel starts to wear down, small holes (cavities) will begin to form. When you chew sugar-free gum, the saliva flow in your mouth increases, which in turn replaces the minerals that enamel requires to prevent cavities from developing.
Celebrate Dental Hygiene Month in Fairfax Corner by Making Your Dental Hygiene a Priority and Booking an Appointment Today!
While Dental Hygiene Month is an important month to celebrate, it's something that we should focus on all year long. To keep your smile healthy, you can visit your dentist in Fairfax Corner regularly to receive checkups and cleanings. Your dentist and dental hygienists are here to assist you in achieving and maintaining a healthy smile. Seeing them regularly will ensure that your dental and overall physical health remain intact.
Celebrate Dental Hygiene Month in Fairfax Corner by making your dental hygiene a priority and booking an appointment today!